LISTEN ONLINE TO THIS SHOW:
As we've followed the news from New Orleans, it's been a week of sadness and anger that's been pretty overwhelming at times. Mainstream network news has been outraged by the president's indifference to human suffering there, so we can do something else. We can ask, do you know what it means to miss New Orleans?


For comment, we turn to HARRY SHEARER, who has been living in New Orleans part of the year. He's the host of "Le Show" on KCRW, and also a star of The Simpsons on Fox TV, and he wrote about New Orleans for the L.A. Times op-ed page.
PLAYLIST:
Louis Armstrong, "Do you know what it means to miss New Orleans?" (The Great Chicago Concert 1956)
Fats Domino, "Walking to New Orleans" (The Fats Domino Jukebox)
Dr. John, "Iko Iko" (All By Hisself – Live at the Lonestar)
Mahalia Jackson, "When the Saints Go Marching In" (Live at Newport 1958)
The Marsalis family, "Struttin' with some barbecue" (The Marsalis Family Live)
Neville Brothers, "Brother John" (Uptown Rulin')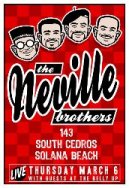 "I'm not sure, but I'm almost positive, that all music came from New Orleans." —Ernie K-Doe, 1979
ALSO: The destruction of New Orleans presents a defining moment in American politics. HAROLD MEYERSON talks about the "stuff happens" presidency, and about how the president's failures might affect everything from the Supreme Court to the war in Iraq. Harold wrote the cover story for The American Prospect this month, "Their War Too," on the pro-war pundits. He also writes for the LA Weekly and the Washington Post op-ed page.
More stuff to read in the LA Weekly:
"The heart of the matter": Bill Bentley's great piece on New Orleans music
"A New Orleans Journal": Ben Ehrenreich's compelling eyewitness reporting