LISTEN ONLINE TO THIS SHOW:
MIKE DAVIS saw it coming: a year ago he warned what would happen in New Orleans: "The evacuation of New Orleans in the face of Hurricane Ivan [in 2004] looked sinisterly like Strom Thurmond's version of the Rapture. Affluent white people fled the Big Easy in their SUVs, while the old and car-less — mainly Black — were left behind in their below-sea-level shotgun shacks and aging tenements to face the watery wrath." He will report live from New Orleans.
Mike's new book is The Monster at Our Door: The Global Threat of Avian Flu, published last week by The New Press.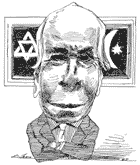 Also: ADAM SHATZ on The Jewish Question in France: how France's most eminent journalist, Jean Daniel, has for half a century been both a friend to Israel and a defender of Palestinian rights: "a trapeze act that he has managed with extraordinary grace." He shows that, in proclaiming "tribal loyalty" rather than "the universal application of justice," "the Chosen People have, alas, revealed themselves to be altogether ordinary."
Adam is literary editor of The Nation; he wrote about "The Jewish Question" for The New York Review of Books.
Plus: BARBARA EHRENREICH's book Nickel and Dimed has sold more than a million copies and was on the bestseller list for 102 weeks. Now she has a terrific new book out – Bait and Switch: The (Futile) Pursuit of the American Dream. It's an undercover exploration of the shadowy world of the white collar unemployed. The story is alternately grim and hilarious.
Barbara will be reading and signing Bait and Switch FRIDAY at 720pm at Skylight Books, 1818 Vermont Ave. in L.A.

VIDEO FROM THE STORM: WATCH
—a harrowing BBC-TV report from New Orleans
—Even on Fox News, Geraldo Rivera and others were outraged.