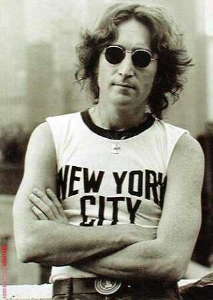 Dec. 8 is the 25th anniversary of the killing of JOHN LENNON. We'll commemorate that anniversary by listening to some rare audio from the Pacifica Radio Archives documenting Lennon's engagement with the anti-war movement of the sixties: ABBIE HOFFMAN talking about John Lennon in a 1981 interview, PETE SEEGER rembering how he lead half a million people singing "Give Peace a Chance" at the Washington Monument in 1969, Lennon's own voice from the bed-in in Amsterdam in 1968 and the Free John Sinclair concert in 1971 – and, throughout the hour, some of our favorite Lennon music.
Playlist: "Instant Karma!," "Come Together," "The Ballad of John and Yoko," "John Sinclair," "Stand by Me," "Oh Yoko."
Also: KPFK SPORTS! Today: a look at the Oakland Raiders fan empire with JIM MILLER and KELLY MAYHEW, authors of the new book Better to Reign in Hell: Inside the Raiders Fan Empire.
Plus: What's next in California politics: SHEILA KUEHL, state senator from Santa Monica, with comment and analysis.
Today's news update: Twenty-five years after John Lennon's murder, the FBI has declared it will appeal a recent federal court decision ordering release of the last ten pages of the Lennon FBI file. The FBI says it would not release files about Lennon on the grounds that they contain information provided by a foreign government under a promise of confidentiality.
More info: www.LennonFBIfiles.com.