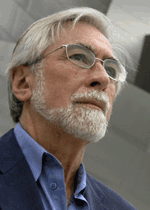 IRAQ UPDATE: For the first time, Iraq's political factions on Monday collectively called for a timetable for withdrawal of US forces, putting new pressure on the Bush White House. ROBERT SCHEER will provide comment and analysis: in his column today, at RobertScheer.com, he says "You've got to hand it to Dick Cheney; no other modern politician has come so close to perfecting the theater of the absurd. Even as he protests his innocence of lying about matters of state, he lies about matters of state." Next Tuesday Scheer launches TruthDig.Com— a web magazine providing provocative content and in-depth coverage of current affairs — sign up today!
The art and soul of Sam Cooke: a black performer who was among the first to blend gospel music and secular themes — from "You Send Me" in 1957 to "A Change is Gonna Come" in 1964.

Friend of Malcolm X and Cassius Clay, he was shot and killed in Los Angeles in 1964. PETER GURALNIK , author of DREAM BOOGIE, will talk about the triumph of Sam Cooke – and we'll listen to some Sam Cooke songs.
PLAYLIST: "Touch the Hem of His Garment" 1956
"You Send Me" 1957
"Bring it on Home to Me" 1962
"A Change is Gonna Come" 1964
"Twistin' the Night Away" 1962
ALSO: E. L. DOCTOROW's amazing new novel, THE MARCH

is set in the middle of Sherman's Civil War march from Atlanta to the sea, the moment of revolutionary destruction of planter property and liberation for thousand of slaves. Richard Eder of the L.A. Times described it as "a serious novel that is at the same time entrancing fun: a panoramic vision of war filtered through its disorders; often brutal and, at times, oddly human."
DAVE ULIN, book editor of the L.A. Times, will comment – he wrote about Doctorow for The Nation.