Girl Groups of the Sixties: LISTEN ONLINE
Raw emotion, youthful energy, and teenage angst in a new 4-CD Rhino box set: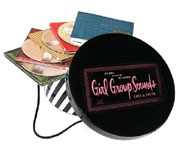 One Kiss Can Lead To Another: Girl Group Sounds Lost & Found. Jon Pareles of the New York Times wrote, "to hear all these long-suffering voices is to realize that feminism didn't arrive an instant too soon." GARY STEWART and CHERYL FARBER, producers of the 120-track collection, will explain. PLAYLIST: "Needle in a Haystack," The Velvelettes (1964); "Nobody Knows What's Going on in my Mind but Me," The Chiffons (1965); "Nothing but a Heartache," The Flirtations (1968); "I Never Dreamed," The Cookies (1964); "I'm Blue (The Gong-Gong Song)," The Ikettes (1961)
PLUS: The war in Iraq has reached a decisive moment, now that all major Iraqi political parties have called for an American withdrawal. TOM HAYDEN asks "is the war ending — or is the anti-war movement ending in 2006?" Tom will talk about "What To Do For Peace Now." Plus Tom's appeal for clemency for Stanley "Tookie" Williams, the convicted murderer facing the death penalty despite his important work for a gang truce.
Tom's most recent book is a new edition of The Port Huron Statement: The Visionary Call of the 1960s Revolution, for which he's written a new introduction, "The Way We Were."
ALSO: President Bush in a speech today announced a "National Strategy for Victory in Iraq." For comment and analysis we turn to DAVID CORN — he's The Nation's Washington editor and he writes the "Capital Games" column for the magazine. He's also a commentator on Fox News, and his most recent book is The Lies of George W. Bush: Mastering the Politics of Deception.
BOB SCHEER UPDATE: Susan Brenneman, Deputy Op-Ed Editor of the L.A. Times, invited MIKE DAVIS to write a "long essay" for the Times op-ed page. Mike replied: "Dear Susan, I hate to respond to your kindness with a polemic, but after the purging of Bob Scheer there is no way that I would contribute to the Op-ed section or even allow one of my pieces to be reprinted. As in the past, please be assured that I have only the highest respect for you and other friends at the LAT, but I won't collaborate with the institution. Hope you understand. warmest, Mike Davis"