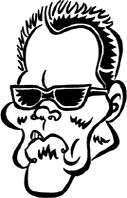 LISTEN ONLINE TO THIS SHOW
ARNOLD'S INITIATIVES:
HAROLD MEYERSON will have analysis of Tuesday's election results, where voters rejected every one of Schwarzenegger's ballot propositions — plus an abortion-parental consent initiative designed to get conservatives to the polls. It's a stunning defeat for the governor.
Harold is political editor of the LA Weekly, editor at large of the American Prospect, and op-ed columnist for the Washington Post.
(Arnold portrait by Caricature Zone.)
PLUS: Republican defeats around the country:

JOHN NICHOLS comments on good news for Democrats from New Jersey and especially Virginia, a red state where Bush himself campaigned last week. John is co-author with Robert McChesney of a new book, TRAGEDY & FARCE: How the American Media Sell Wars, Spin Elections, and Destroy Democracy.
John Nichols is Washington correspondent for The Nation; Robert McChesney teaches at the University of Illinois.
Nichols and McChesney will be talking about Tragedy and Farce Wed. nite at 730pm at Barnes & Noble, 1201 – 3rd St. Promenade in Santa Monica.
ALSO: DON'T GET TOO COMFORTABLE: DAVID RAKOFF looks at American greed, vanity, selfishness, and vapidity — and explains why "the cudgel-like USA Patriot Act" convinced him he should become an American citizen. (He had been a Canadian citizen.) David Rakoff is a regular contributor to Public Radio International's "This American Life" with Ira Glass.
Bad news: the LA Times is killing Robert Scheer's column. Scheer has been a hero and friend of mine for 25 years, and his column has been indispensable, exposing the lies and coverups of the Bush White House — and has been attacked relentlessly by Bill O'Reilly and Rush Limbaugh. The Times's publisher seems to think a blander, more centrist op-ed page will help slow their declining readership. Let the Times know we want Robert Scheer back: Write a letter to Jeffrey M. Johnson, Publisher; Los Angeles Times; 202 W. 1st St.; Los Angeles, CA 90012