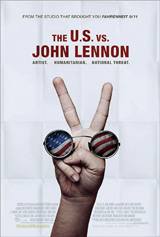 "The U.S. vs. John Lennon" tells the story of Lennon's transformation from loveable moptop to anti-war activist, and recounts the facts about Nixon's campaign to deport him in 1972. With Walter Cronkite, Gore Vidal, Mario Cuomo, George McGovern, Angela Davis, Bobby Seale, G. Gordon Liddy, Yoko Ono, and Jon Wiener–and archival footage of Richard Nixon, J. Edgar Hoover, and John Lennon.
Written and directed by David Leaf and John Scheinfeld
Historical consultant Jon Wiener
World premiere: Venice Film Festival
North American premiere: Toronto Film Festival
View the trailer for The U.S. vs. John Lennon.
Visit the official website for "The US vs. John Lennon".
MORE STUFF TO READ:
"John Lennon: Still a Security Threat," L. A. Times
Bush is busy reclassifying documents – from 1971
"The US vs. John Lennon: Politics and Music", The Nation
Rock 'n' roll and elections, from 1972 to 2006
"Lennon and the Politics of Deportation," TruthDig.com
How presidents get rid of non-citizens they don't like
"CIA-FBI Cooperation: The Case of John Lennon," The Huffington Post
FROM THE REVIEWS:
"Lennon's spirit, like his music, shines through this movie like a beacon. Powerful stuff."
– Peter Travers, Rolling Stone
"A fascinating documentary."
-Joe Morgenstern, The Wall Street Journal
"One of the most compelling documentaries of recent years."
– Stephen Farber, Movieline
"The U.S. vs. John Lennon would be a sobering film at any time, but it is particularly so right now. It is the story not only of one man being harassed, but of a democracy being undermined."
-Adam Cohen, The New York Times
"Captures the contradictory romanticism of Lennon the radical."
– Owen Gleiberman, Entertainment Weekly
"A stirring celebration of a man of enormous talent, humor and humanity."
– Jack Matthews, New York Daily News
"Stunning and shocking. Not to be missed!"
– Jeffrey Lyons and Alison Bailes, Reel Talk (NBC)
"Could score a nomination in Oscar's best documentary feature category … the kind of film you simply have to talk about after you've seen it."
– Martin Grove, hollywoodreporter.com
"Absorbing… astonishing archival footage… cogent and timely."
– Richard Brody, The New Yorker
"Couldn't arrive sooner… Leaf and Scheinfeld have gifted us with 99 minutes of optimism in a time of peril, pessimism and desperation."
– Michael Simmons, The Huffington Post
"Poignant and topical… Leaf and Scheinfeld establish their protagonist as the most quick-witted of public figures."
-J. Hoberman, The Village Voice
"Loaded … revelatory … fascinating!"
– Karen Durbin, Elle
"A hit at the Venice Film Festival… Lennon's genius as an artist/activist shines through."
– Denis Barnett, Agence France-Presse
"The release of The US Versus John Lennon will undoubtedly spawn many words about the greatness of the man, and more about the historical parallels of a man speaking out against an absurd war and suffering the consequences."
– Markos Moulitsas, Daily Kos
"Gripping and moving."
– John Payne, L.A. Weekly
"A fascinating look back at the right wing's sordid attempt to deport John Lennon."
– Andrew O'Hehir, Salon.com